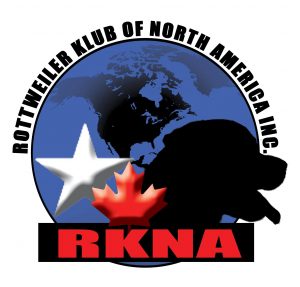 The Rottweiler Klub of North America Inc. USA (RKNA Inc.) organizes events to ensure the development and maintenance of the Rottweiler as a working breed with the ability to show. On January 1, 2011, RKNA entered a co-operative working partnership agreement with the ADRK in Germany.
The goal of RKNA Inc. was and still is to be an organization like the ADRK that encourages a system of breeding only rottweilers which have proven themselves to possess the necessary conformation, health, and temperamental traits in accordance with the FCI standard of the breed.
To achieve this goal we offer:
German style Sieger shows, Standard Evaluation (SE), ZTP, BH, AD, FH and all levels of IPO trials.
UPDATE: As of 2018, owners whose dogs pass an RKNA Inc. SE under an ADRK judge can also apply for ADRK BSE certification.
The RKNA Inc. has developed multiple awards and title systems to showcase the hard work and dedication by our membership in areas of Working, Conformation, and Health.
In 2016 the ADRK agreed to recognize our "Elite" Champion program which will allow RKNA members to enter their dog in the champion class at the ADRK Klub Sieger.
Proudly supporting our USA clubs.
In March 2011, the RKNA Inc. became incorporated as a Non-Profit Organization.