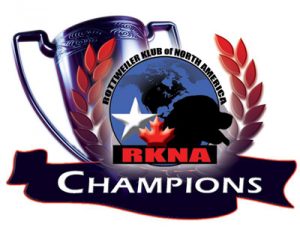 RKNA ELITE Champion award revised in 2016 to match the requirements from the ADRK for RKNA member dogs to enter the ADRK Klub Sieger.
Two points will be available each RKNA show. To attain the RKNA Elite Championship title, a dog must earn 4 points from RKNA shows as follows: 
A. 1 point Best of Breed, 1 point Best of Opposite Sex
B. The 4 points must be earned under 3 different judges.
C. The points must be earned during a period greater than 12 months.
D. The dog must be entered in the adult classes.